The ConvertKit Free Plan
Manage up to 1,000 subscribers and begin your journey as a creator today with ConvertKit's Free Plan.
Manage up to 1,000 subscribers in ConvertKit, for free.
Gaining traction as a new creator requires an audience, and building your audience can take some time. We understand that you might not have the ability to pay for a email marketing platform when you're just starting out.
However, we don't want you to select what is arguably one of the most important pieces of software in your business based on cost reasons alone! Rather, we want you to get up & running on a platform that can grow with you, at your own pace.
Our solution? The ConvertKit Free Plan, which now includes up to 1,000 subscribers! 🎉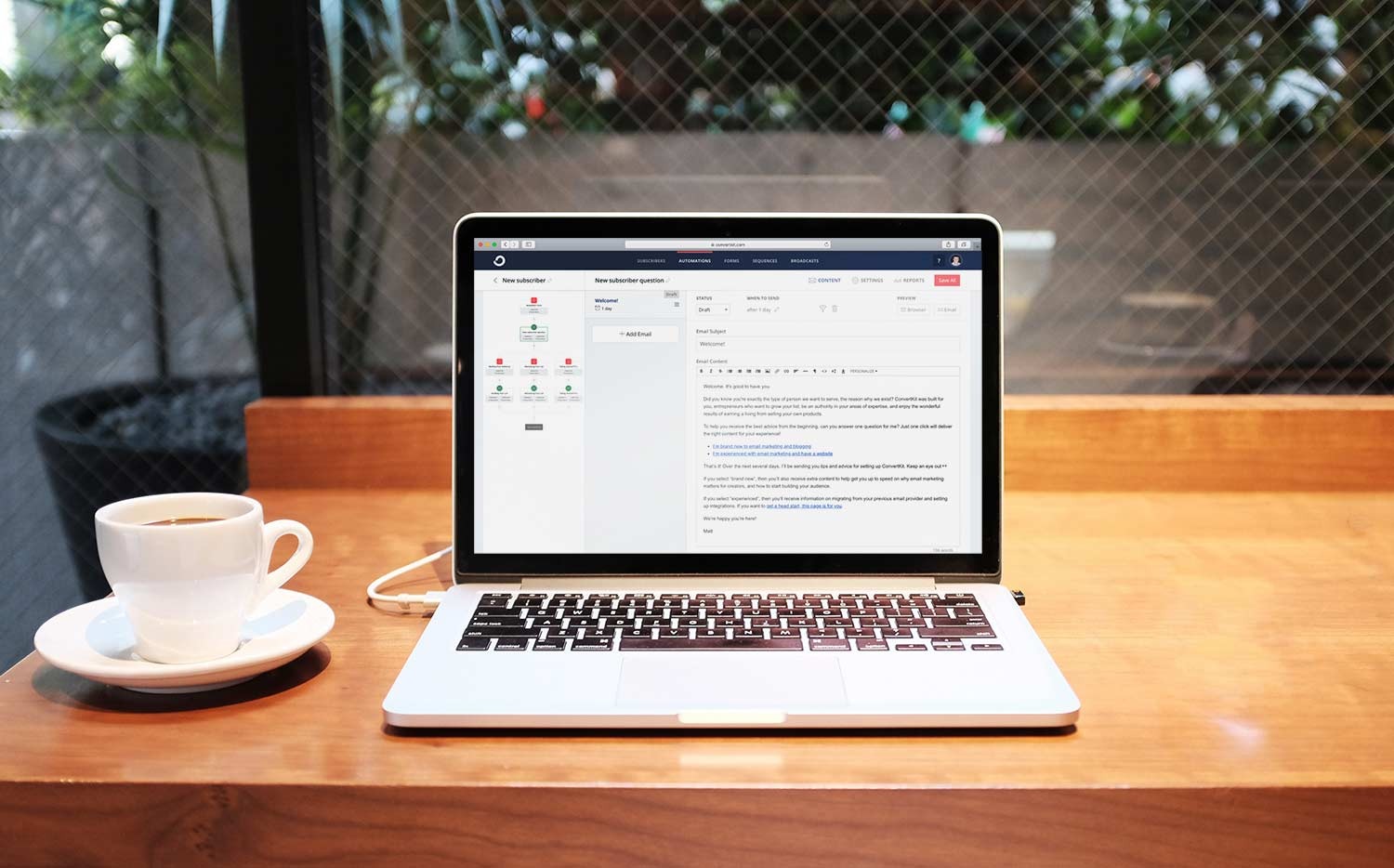 Here's how it works
On our free plan, you have access to all of the features you need to start growing your email list up to 1,000 subscribers, and the ability to engage with those subscribers on an ongoing basis.
Here's an overview of the features included on our free plan:
✔️ Unlimited forms & landing pages
✔️ Separate incentive emails for each opt-in to automatically deliver lead magnets
✔️ Up to 1,000 subscribers, including tagging & segmenting
✔️ The ability to send email broadcasts to your list, to stay connected
...and that's not even all of them! Check out our pricing page for a more detailed breakdown.
Does this change replace the paid version of the 1,000 subscribers plan?
No — you can still be on a paid plan, even if you have less than 1,000 subscribers. That'll still put you on our $29/monthly plan, and nothing has changed in that regard!
The primary distinction is that sequences & automations are not available on our free plan, whereas they are available on all of our paid plans. There are some other differences as well, which can be reviewed in the comparison on our pricing page.
You can make a lot of progress with just the basics, and our free plan is specially designed with that in mind: we've moved the power-user features out of your way, until you determine you're ready for them.

You can upgrade to one of our paid plans at any point and instantly unlock our premium features, before or after you hit the 1,000 subscriber mark. We'll grow with you, whenever you're ready.
Is support still provided on the free plan?
Of course! We've got your back, whether you're a free or paid member of the ConvertKit family ♥️ Free plan users are still welcome to use all of our regular support channels.
PLEASE NOTE: We strive to respond to all free support requests in the order that they are received, within 24-72 hours.
☝️ But that's not your only option!
Our ConvertKit Community is quickly becoming the best place to go to connect with creators like you from around the world. This is your go-to place if you're looking for inspiration, advice, to share a win, as well as if you have any questions about using ConvertKit! In many cases, posting in the community is the fastest way to get assistance as a free plan user.
NOTE: Some types of technical issues will need to be redirected to the queue, but we'll let you know if that's the case.
Regardless of what type of ConvertKit plan you're currently on, our community is an incredible resource where you can ask for help and receive guidance directly from friendly fellow creators.
Can I import my current list on the free plan?
Of course! We have a guide on importing subscribers into ConvertKit here. You'll just need to ensure your total subscriber count stays under 1,000 to remain eligible for all of our free plan's features.
If you surpass the 1,000 subscriber limit (congratulations! 🎉), you'll need to upgrade to one of our paid plans to continue sending emails, but everything else will remain as-is — just with some extra features now unlocked! 😉
How can I switch to the free plan if I'm already a customer?
If you're a paid customer and want to downgrade your plan to free, or you're on a free plan that doesn't yet reflect the new 1,000 subscriber limit, just reach out to our support team and we'll get it sorted out for you!
NOTE: As soon as your account is downgraded from paid to free, you'll lose access to all paid-only features. However, you can still upgrade back to a paid plan at any time, and everything will be just as you left it!
Have more questions? 👇
Ask our community!
---